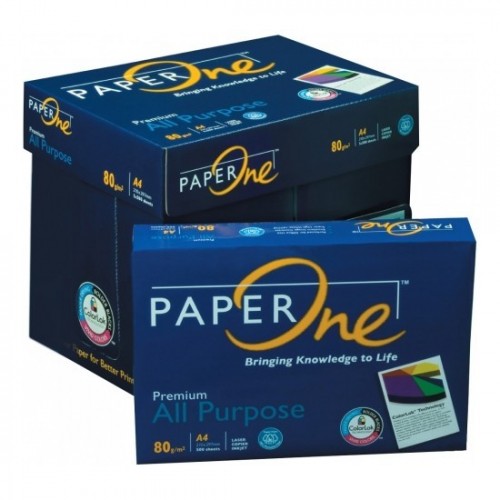 Hot
A4 80gsm Paperone Blue All Purpose / 85gsm Digital Copy Paper (5 reams per box)
A4 85Gsm Paperone Digital Inkjet & Laser Copy Papers (5 reams per box)
Same price as 80gsm !!!!
A4 80Gsm Paperone Blue Copy Paper (5 reams per box)
Quantity: 500shts per ream/ 5 reams per box

Other Charges: $5.10 per box if your unit does not have direct lift access.

Unique features and the benefits of using PaperOneTM All Purpose
* ProDigiTM Nanotechnology
* High Opacity
* High Whiteness
* High Thickness for Duplex Printing
* Environmentally Friendly
* Precision Cut Edges
* User Friendly Box with Handles and Quick Ream Access
* High Smoothness for Sharp Print

Print & Usage Area
PaperOneTM All Purpose is a Premium quality home and office paper designed to fit in all kinds of equipment using inkjet and xerographic principles.
Examples of usage areas are presentations, newsletters, proposal copies, graphics, memos, reports, resumes and letters.