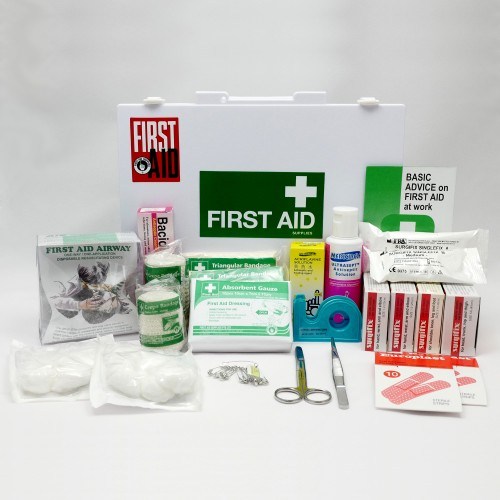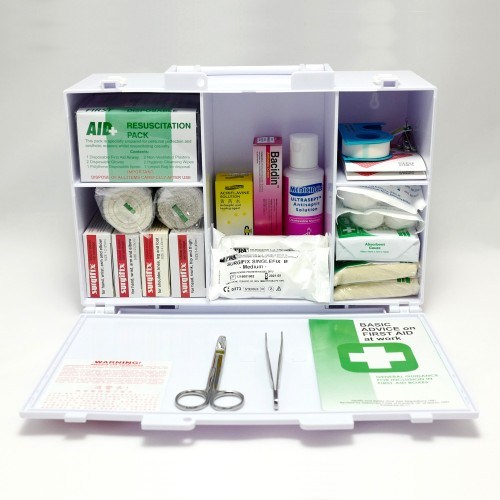 Pre-Order


First Aid Kit Outfit No. 17 (1-25 pax)
A multi-purpose small first aid kit that is popular for use in offices and public places such as sports complexes, theatres, cinemas, church halls, schools and institutes.
It includes Surgifix dressings and common antiseptics to aid in wound dressing.
Our sturdy yet light-weight first aid box can be wall mounted or easily carried around.
The compartments in the box ensures your first aid items are kept tidy so that you can easily see and locate your items during emergencies.
30.5cm x 21cm x 12cm (12" x 8" x 5")
| | | |
| --- | --- | --- |
| S/N | Contents | Qty |
| 1 | Absorbent Gauze 10's | 1 |
| 2 | Acriflavine Solution | 1 |
| 3 | Antiseptic Cream | 1 |
| 4 | Antiseptic Solution | 1 |
| 5 | Basic Advice on First Aid At Work | 1 |
| 6 | Cotton Ball 10's (Sterile) | 2 |
| 7 | Crepe Bandage 2" | 1 |
| 8 | Crepe Bandage 3" | 1 |
| 9 | Disposable Resuscitation Pack | 1 |
| 10 | Dressing Forceps | 1 |
| 11 | Dressing Scissors | 1 |
| 12 | Europlast 10's | 2 |
| 13 | Hypoallergenic Tape 1/2" | 1 |
| 14 | Safety Pin 12's | 1 |
| 15 | Singlefix Finger Dressing (Sterile) | 2 |
| 16 | Surgifix Size 1-2 | 2 |
| 17 | Surgifix Size 3-4 | 1 |
| 18 | Surgifix Size 5-6 | 1 |
| 19 | Triangular Bandage | 2 |