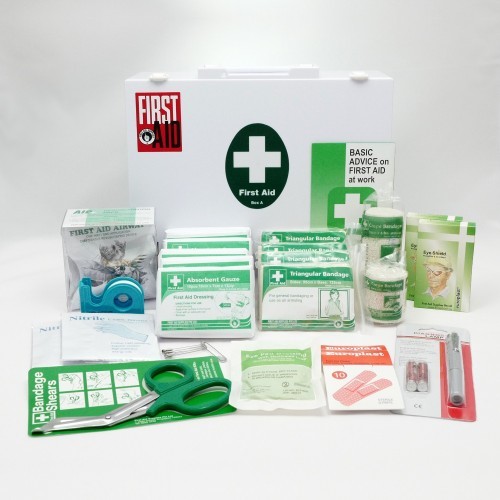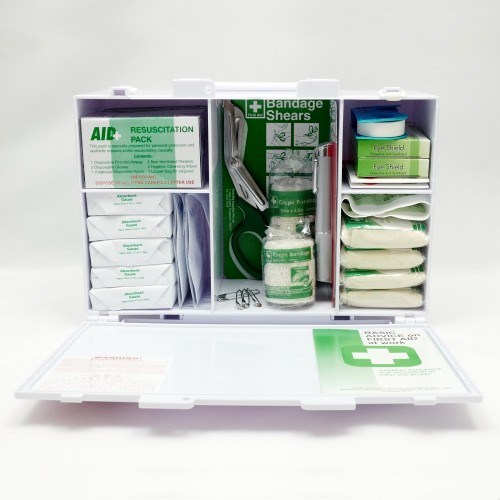 Pre-Order


First Aid Kit Outfit Box A (MOM Compliant)
First Aid Outfit Box A, B and C are one of the most popular first aid kits used in workplaces.
The kit contents continues to be the benchmark used by employers when selecting a first aid kit for their workplace.
Recommended for use where the number of workers does not exceed 25
30.5cm x 21cm x 12cm (12" x 8" x 5")
Box A is also suitable for use in schools.
S/N
Contents
Qty
1
Absorbent Gauze 10's
5
2
Basic Advice on First Aid At Work
1
3
Crepe Bandage 2"
1
4
Crepe Bandage 4"
1
5
Disposable Nitrile Gloves (Pair)
2
6
Disposable Resuscitation Pack
1
7
Europlast 10's
2
8
Eye Pad (Sterile) with Loop
2
9
Eye Shield with Loop
2
10
Hypoallergenic Tape
1
11
Pen Touch Light (Diagnostic Lamp)
1
12
Safety Pin
4
13
Shear Scissors
1
14
Triangular Bandage
4

Note: Sterile saline/water is only recommended for places with no water supply