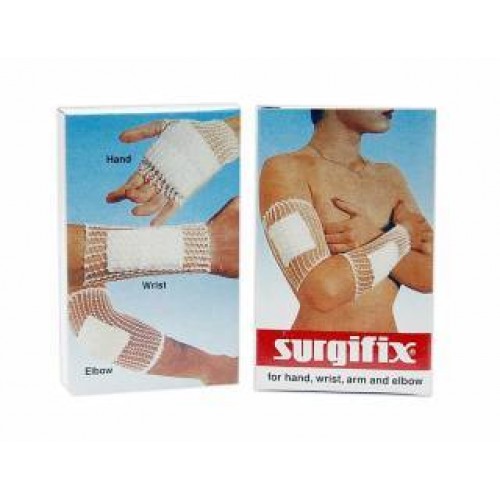 Pre-Order
Surgifix Size 5-6
Surgifix Size 5-6
SURGIFIX is the invention of FRA PRODUCTION, which was patented about twenty-five years ago, and since then has been in use throughout the world.

Over the years FRA have invested all their resources in advanced technology, seeking constantly to improve their product SURGIFIX and discover new fields of application.

The present product is, therefore, the outcome of very specialised techniques employed exclusively for SURGIFIX, together with very scrupulous tests on raw materials.

Thus we are able to guarantee all FRA products, which fact in itself differentiates SURGIFIX from its imitators.

SURGIFIX tubular elastic net bandage for shoulder, knee, leg and foot is available in different sizes to hold dressings in place on any part of the body. It is an open mesh bandage which is quick and easy to apply and permit to be re-dressed without complete bandage being removed. It is comfortable and holds the dressing firmly in position and permits maximum ventilation with minimum restriction. It can be washed and re-used.
SURGIFIX is an open mesh bandage, which is quick and easy to apply and permit to be re-dressed without complete bandage being removed. It also permits maximum ventilation with minimum restriction, holds dressing firmly in position and is comfortable.

Size 1-2: for hand, wrist, arm & elbow
Size 3-4: for knee, leg, foot & shoulder
Size 5-6: for head, hip, thigh & axilla
This product has a minimum quantity of 3