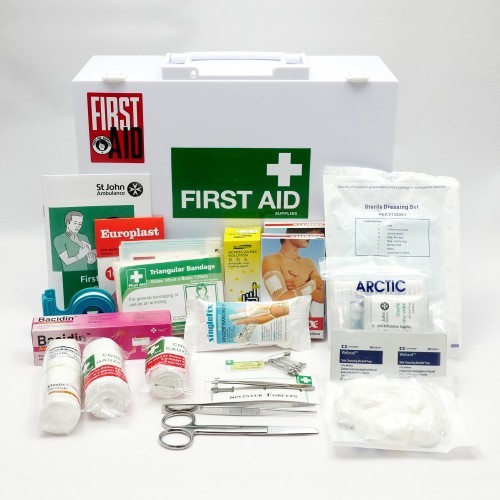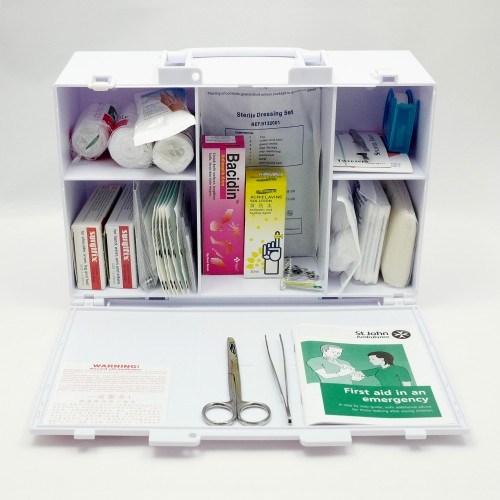 Pre-Order


First Aid Kit Outfit No. 17 Home
A comprehensive Family First Aid Kit that is a must for every home to deal with minor injuries in the home.
It contains a wide range of first aid items in various sizes suitable for children and grown ups.
Our sturdy yet light-weight first aid box can be wall mounted or easily carried around.
The compartments in the box ensures your first aid items are kept tidy so that you can easily see and locate your items during emergencies.
30.5cm x 21cm x 12cm (12" x 8" x 5")
| | | |
| --- | --- | --- |
| S/N | Contents | Qty |
| 1 | Acriflavine Solution | 1 |
| 2 | Alcohol Prep Pad | 10 |
| 3 | Antiseptic Cream | 1 |
| 4 | Basic Dressing Set (Sterile) | 1 |
| 5 | Conforming Bandage 2" | 1 |
| 6 | Conforming Bandage 3" | 1 |
| 7 | Conforming Bandage 4" | 1 |
| 8 | Cotton Ball 10's | 1 |
| 9 | Cotton Bud 100's | 1 |
| 10 | Dressing Forceps | 1 |
| 11 | Dressing Scissors | 1 |
| 12 | Europlast 10's | 1 |
| 13 | First Aid in an Emergency | 1 |
| 14 | Sterile Cleansing Wipe | 10 |
| 15 | Hypoallergenic Tape 1/2" | 1 |
| 16 | Non-Adherent Dressing (Sterile) | 6 |
| 17 | Safety Pin 12's | 1 |
| 18 | Singlefix Finger Dressing (Sterile) | 1 |
| 19 | Splinter Forceps | 1 |
| 20 | Surgifix Size 1-2 | 1 |
| 21 | Surgifix Size 3-4 | 1 |
| 22 | Triangular Bandage | 1 |